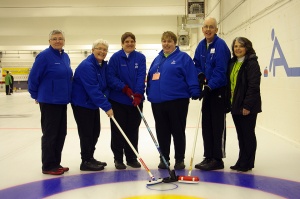 Special Olympics would not exist today without the time, energy, commitment, and enthusiasm of people just like you, thousands of individuals who choose to take a little time from busy schedules to make the world a better place.
Who can volunteer?
You don't need a sport background to volunteer with Comox Valley Special Olympics.  All you need is enthusiasm for helping empower people with intellectual disabilities through sport.
Why volunteer with Special Olympics Comox Valley?
There are many reasons to get involved, and many benefits, including:
Building friendships and networking connections
Developing new skills for personal and professional development
Gaining volunteer hours for school programs
Getting involved with your community
Sharing your love of sport
And, most of all, experiencing the joy of working with our athletes!
What volunteer opportunities are available?
Whether you can give a few hours at an event or want to get involved weekly, we have a position for you.  We are currently looking for volunteers to fill the following position(s):
Head Coach - Powerlifting (Time TBD)
Head Coach - Rhythmic Gymnastics (Time TBD)
Head Coach - Golf (Spring 2023)
To apply - please contact:
Caitlin Hooper, Volunteer Coordinator at volunteer@cvso.ca
Apply via the following LINK